Kitchen & Bathroom Cabinets in Arlington County
10-14 Day
Lead Time in Arlington County
Great
Selection
Of Brands
Price Points
For Every
Budget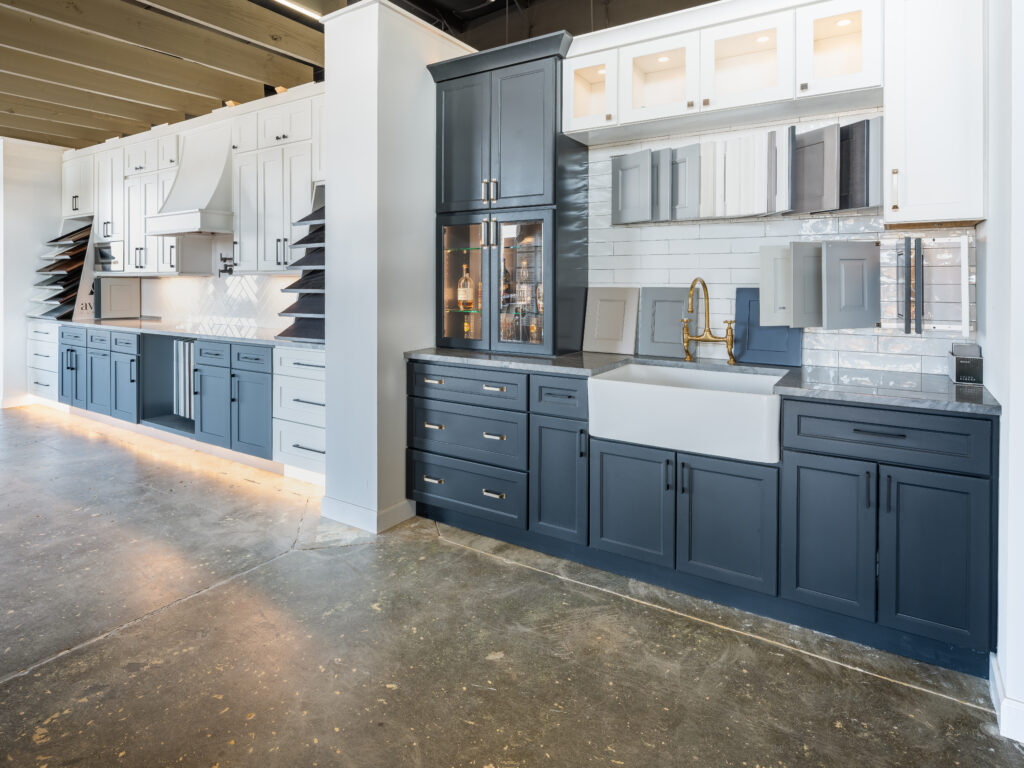 Anker & Klemm is conveniently located off Route 28 and the Dulles Toll Road, between Tart Lumber and Belfort Furniture. We specialize in taking the hassle out of ordering kitchen and bath cabinets for homeowners, contractors, design professionals, and builders. Ask us about our Pro-Program, and your discounts that start at 20% off our already competitive retail prices!   
Need something in a pinch? We stock our own signature line of vanities, sinks, mirrors, faucets, shower fixtures, tub fillers, and drains available for same day pickup or next day delivery. Our hardwood vanities come in slate blue, stone grey, or soft white and are available in sizes 30", 36", 42", 60", and 72".   
We have also teamed up with nearly a dozen of the Nation's leading cabinet brands that offer an average turnaround time of just 7-10 business days. From frameless and inset, to the ever-popular full overlay, we can help you achieve the look of semi-custom within your budget for kitchens, bathrooms, pantries, built-ins, desks, and more.   
We also offer a measure/design service for $249 for kitchens and $149 for bathrooms and bars which includes an in-home measure, design services, and the creation of a 3D rendering. The fee is reimbursed into the cost of the cabinet order when moving forward with your order. 
Arlington County is a county located in Northern Virginia, United States. It was founded in 1801 and spans a land area of approximately 26 square miles. As of the 2020 census, the county has an estimated population of over 236,000 people. When it comes to home improvement or remodeling, Arlington County is known for its sustainable and eco-friendly practices. The county offers a variety of programs and incentives for residents looking to make their homes more energy-efficient, including low-interest loans and rebates for energy-saving upgrades.
Had a great experience with Anker & Klemm. Emma and crew put together a design for a basement kitchenette, including details that I hadn't thought about. Ordering everything was super simple, and delivery was prompt. I liked the service so much I also purchased a new vanity for my guest bathroom there. Would highly recommend and go early in the day… Emma will often have warm
"Saved us
thousand of dollars"
The Anker & Klemm cabinets did not disappoint and working with Geo was instrumental. The cabinets were my biggest worry of this house project – so much could have gone wrong. Geo ensured that the cabinets were delivered on time, intact, and with correct measurements and installation parts. He communicated with us throughout and was always accessible and responsive, even hand delivering a portion of the order we had to get separately. Going with Anker & Klemm saved us thousands of dollars without sacrificing any of the quality.
"I feel so lucky to have found this company"
What an amazing find!! We had been looking for weeks for a vanity style for our owner's bathroom and Emma knocked it out the park with one swing. Emma is very personable, patient, and knowledgeable. I feel so lucky to have found this company with Emma. We ordered our vanity and we are very happy!! I highly recommend that if you are shopping for vanities/cabinets, please come see Emma at Anker & Klemm.
22195 Shaw Road Suite 200
Sterling, VA 20166
Monday to Friday 9 am – 5 pm
Saturday 9 am – 4 pm
Sundays – Closed
Get in touch to schedule a virtual design consultation.